"The public is hardly aware that Van Gogh created a series of paintings of sunflowers," says Leo Jansen, a curator at the Van Gogh Museum and editor of the artist's letters. "For nine out of 10 people I tell, it's news." "A lot of people know one of the Sunflowers, and don't even realise there was a series," agrees Martin Bailey, whose book The Sunflowers Are Mine: The Story of Van Gogh's Masterpiece was published last year.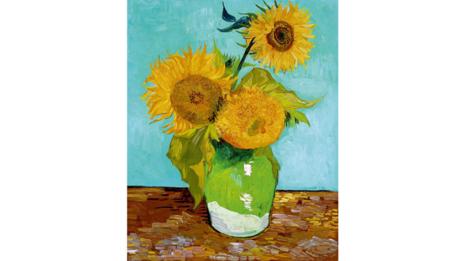 Van Gogh painted sunflowers for the first time in the summer of 1886. Two years later, his interest re-emerged after he settled at Arles, just north of Marseille in Provence. Having invited the Post-Impressionist French artist Paul Gauguin, whom he admired, to join his Studio of the South, he began painting sunflowers to brighten up the whitewashed interiors of the yellow house he was renting at 2 Place Lamartine, not far from the town's railway station and brothels.
When Gauguin, having accepted Van Gogh's invitation, began dragging his heels, the Dutchman earmarked the last two of the four original Sunflowers for the modest bedroom where his guest would sleep following his arrival that autumn. "Van Gogh saw the production of the Sunflowers for Gauguin's bedroom as a way of enticing his friend to come from Brittany," says Bailey.