African Tree Sample for students
Regular black markers morph into beautiful watercolors with the help of a bit of water and a few techniques. An elephant is a perfect subject in which to experiment with this media as the resulting color is a perfect gray.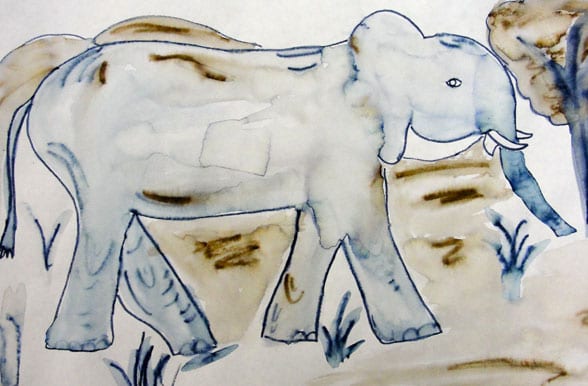 I remember the first time I discovered that regular black ink would bleed and discolor when mixed with water. Halston was my favorite dress designer (am I dating myself?)  and after completing a drawing of glamorous models wearing flowing black dresses, water dribbled onto my artwork. The water smeared everything it touched. I remember looking at the paper and loving the violet and grey hues that emerged from the ink. I was mesmerized.

I was twelve.
I didn't have fancy art supplies. Mostly typing tablets and Bic markers, but it was enough.I transformed all my ink drawings into "watercolors" with a simple brush. It was like magic.
So when I saw another art teacher do this effect on elephants last year, I was transported back in time to my twelve year-old self.
Start with a picture 
Draw elephants with regular Crayola black markers. You can use a pencil to sketch out the shape first, but I hesitate using pencils. Sometimes they encourage perfectionism in the artist (which this lesson is not about). After the drawing is complete, hand out water and brushes. The trick is to make sure there is enough ink on the paper to create "paint". It also helps to have some control over where the water is placed. The kids loved this lesson and I could see how magical it was to them as well. This only requires one, 45-50 minute lesson. Use regular paper.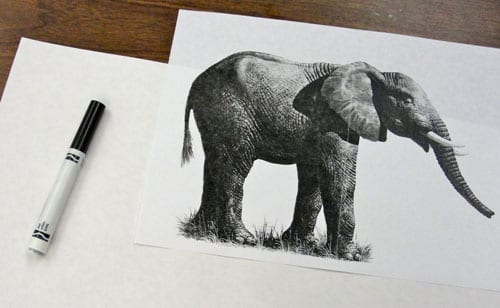 Photocopy a picture of an elephant…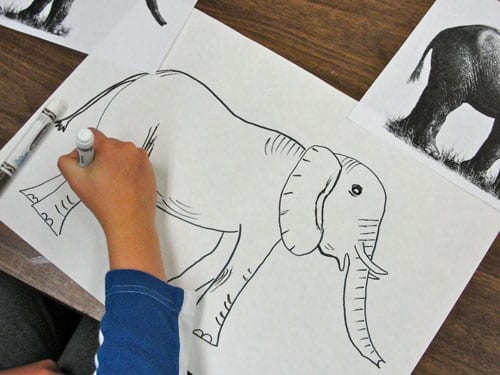 We drew the elephant together using directed-line instruction and foregoing pencils!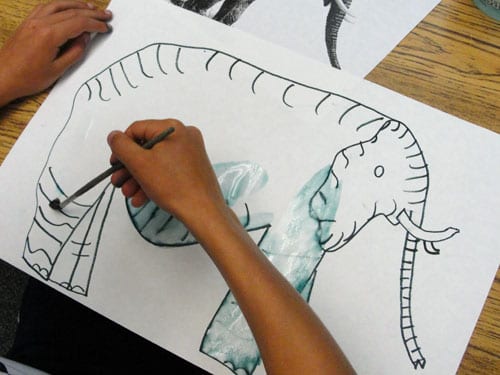 It helps to create dark, marker lines in order to provide enough "ink". Use a wet brush to create shadows and creases on the elephant.
Tips for achieving the "special" look…
First of all, make sure you are not using a waterproof black marker. You want the ink to run and smear. It really helps to go over the contour or outside shape of the elephant a few times with the marker. Think of it as loading up on paint. Add lots of wrinkles and try not to over-water.
Have fun with this fun technique!